Google Ads (formerly Google AdWords)[2] is a platform for online advertising created by Google where marketers can place bids to have their brief adverts, service or product listings, or videos displayed to website visitors. [3] It has the ability to insert advertisements on videos, non-search websites, mobile apps, and the results of search engines like Google Search (the Google Search Network). [4] [5] Pay-per-click (PPC) pricing is used for the services that are provided.
It's difficult to compete online for new clients. There are many shrewd marketers out there that are familiar with every aspect of sponsored (PPC) marketing.
Naturally, with this degree of expertise, experienced advertisers find it much simpler to grab the market share you have been working so hard to win.
Even though this might be the case, you can still participate if you can figure out how to apply the same strategies as the pros.
Learning how to use Google Ads to engage customers and persuade them to think about your company is one of these tactics.
Did you know? Paid campaigns drive 65% of clicks received by Google Ads. So, with the right approach, you can accelerate the growth of your business through this most popular of platforms.
Inspired? Here are some tips on how you can take advantage of Google Ads and get it working in your favor. Yes, let's find out how to do Google Ads.
What is Google Ads?
Google Ads is Google's paid online marketing and advertising platform (or ecosystem). Using the platform will allow you to set up a dynamic mix of online advertisements aimed at specific segments of your target audience.
It's possible to bid for relevant keywords or terms to increase your chances of serving your ads to the right customers at the times when they're most likely to engage with your brand. You can manage your campaigns and create your ad content from one place while keeping track of your performance through the platform's in-built analytics tools.
Google Ads should play a key role in your paid marketing plan if you want to increase interaction, brand exposure, and revenue.
Advice: The most recent Google update will make it illegal for companies to use cookies to follow consumer data. Check out our guide on setting up GA4 to keep tracking the success of your ads with Google Analytics and collect useful information for your upcoming campaigns.
Why use Google Ads?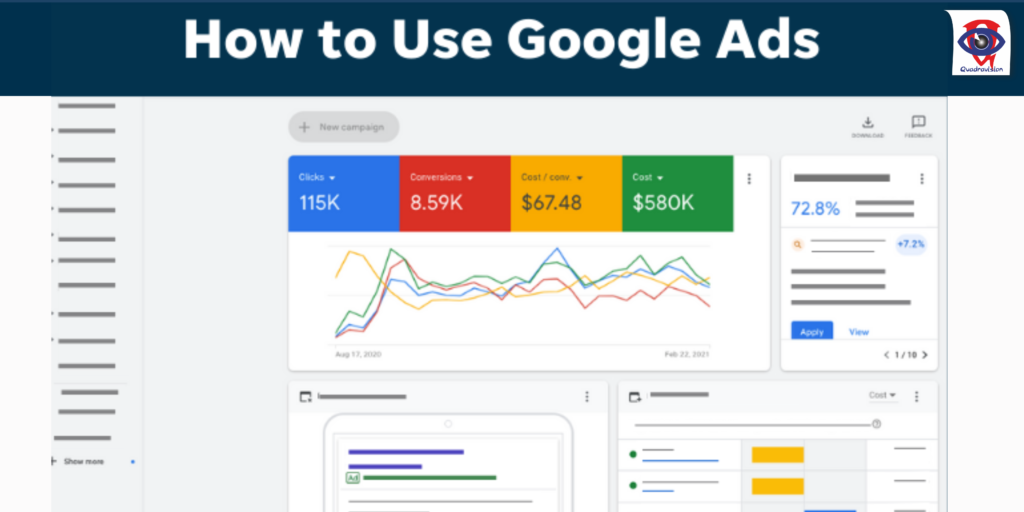 Google Ads has something for businesses of all sizes with different budgets, advertising goals, and target audiences. The service offers many benefits to digital marketers:
It has a huge reach. These days, when consumers have a query, their first port of call is Google. Your business could offer valuable solutions to some of these queries. When you advertise on Google Ads, relevant searchers are more likely to find you, click on your ads, and convert
It's not complicated to use. Google Ads makes everything straightforward and easy to understand
It helps you build brand awareness by reinforcing your brand name and making it visible to consumers, which in turn helps to build trust
It helps you to manage multiple client accounts efficiently and in one place
It enables you to put constraints on your daily budget, so you don't have to spend more money than you want to. You can decide how much you want to spend and only pay when someone interacts with your ad.
How do you advertise on Google Ads?
Now that you're up to speed on what the platform does and why it's worth using, let's look at how to advertise on Google Ads.
Step 1: Learn the basics
Before creating your ads, it's essential to get to grips with the platform basics. By learning the platform's fundamental processes and functions, you will gain a better chance of choosing key terms, setting parameters, and creating content that will resonate with your target audience, earning you a consistently healthy return on investment (ROI) in the process.
Step 2: Setting up the account
In most cases, it's best, to begin with, a manager account because it's free and it allows you to build a number of child accounts within it. Even if you only need one child account at the start, you may find in time that you need a second one or a third one. These can be easily added to the manager account.
To create a Google Ads manager account:
Go to this link: https://ads.google.com/home/tools/manager-accounts/
Click Create a Manager Account and follow the instructions
Sign up using your Gmail address
Note: You can't set up a manager account with an email address that's already assigned to another Google Ads account. It must be an email address that's not associated with any Google Ads account. Ideally, you should use a new email address to set up your manager account. Then you can link all of your other Google Ads accounts to your manager account, not to your email address.
Add on additional child accounts as you need for your Google advertising efforts
Step 3: Finding keywords to target
When it comes to knowing how to advertise on Google effectively, targeting the right keywords is essential.
With the platform's Keyword Planner Tool, you can:
Gather search volume data on specific keywords and phrases
Understand how much it will cost per click to bid on specific search terms for your Google Ads
Discover new keywords and terms that could perform well in your ad campaigns and make a real impact on your target audience
To get your Google Ad keyword research just right and earn the best possible ROI for your efforts, explore our five steps of keyword research infographic. You can also download our essential keyword research toolkit.
Step 4: Choosing the type of ad you want to run
The next step in setting up Google Ads for success is choosing which type of ad you want to run based on your specific marketing goals.
Here is a quick guide that will help you decide:
Search: Text ads on the search results page
Video: Video-based ads on YouTube and Google search result pages
Shopping: Product listings, usually displayed in a carousel at the top of a Google search results page
Display: Image-based ads or ad-based content displayed on websites, apps, and platforms across Google's extensive Display Network
Discovery: Highly visual ads displayed on user feeds across the Google Display Network
Local: Google ad content that is served to highly-targeted regional audiences
Step 5: Strategize on budget and bidding strategy
To squeeze as much value from every one of your ads, you must choose the right bidding strategy.
When it comes to Google Ads, you can place your bids manually or with the platform's automated bidding functionality.
If you have a limited ad budget, using a manual bidding process is a good idea as you can place a definitive cap on your cost-per-click (CPC). But, if you're looking to save time and optimize your ads across multiple campaigns (and your budget is a little more flexible), automated bidding could offer excellent returns. Just keep in mind that automated bidding will cost you more to run your ads.
Tip: Check out Google's bidding basics guide to optimize your strategy based on your goals and budget.
Step 6: Creating the ad
This is the point in our How to Do Google Ads when we come to creating the content itself. To create ads that stand out and inspire your prospects to take action, you must plan to:
Write an effective headline that includes relevant keywords and actionable phrases
Craft body copy that outlines the key USPs, is conversational, represents your brand tone of voice, and encourages people to click through
Include high-quality visuals (images, graphics, or video content) that bring the product, service, or event you're promoting to life
Remember: To ensure your ad resonates with the right audience, you should consider who you're speaking to when creating your Google Ads. Our practical buyer persona template will help you get started.
Step 7: Preparing your website landing page
When someone clicks your ad, the destination must be equally as valuable and compelling as the ad itself. Your landing page should deliver on your Google Ad promises and expand on its messaging.
Not only should your landing page be consistent with your ad in terms of branding and tone of voice—but it should also be optimized for the best possible user experience (UX).
Did you know? You have a mere eight seconds to make a good first impression on your landing page. So, setting it up the right way is vital.
To set up your landing pages effectively and increase your conversion rates, check out our guide to best practices for great landing pages.
Step 8: Test the ads and optimize
Last but certainly not least, you should always test your ads to discover how you can optimize your future efforts for maximum results.
One of the most effective ways of finding out which variations of your ads drive the best results is through something called A/B testing.
A/B testing is a process where you test two versions of the same ad content, with slightly differing elements (copy, images, design, color schemes, call-to-action buttons, etc.). In doing so, you can see which elements perform better and optimize your ad accordingly.
Our A/B testing lesson will tell you all you need to know to get set up and start optimizing your Google Ad campaigns.
Another impactful way of testing and optimizing your ads is through ad group testing. This swift and scalable approach to testing will empower you to compare your ads and ultimately, discover which content performs best in each specific ad group. Google's in-house guide to ad group testing is a useful resource that will guide you through the process.
Do's and Don'ts when running your Google ads
Now that you know how to set up and run a Google Ads campaign, we're going to look at some dos and don'ts to set you on the right path.
Do:
Make sure your landing page is cohesive with your ad and delivers on its promises
Use an extensive negative keyword list when using generic keywords
Use geographic targeting where you can
Use a keyword planner tool
Test, measure, and optimize your efforts
Track your conversions and use themed ad groups
Don't
Choose broad and irrelevant keywords for your ad campaigns
Try to outbid your competitors without a concrete plan
Send traffic to a generic homepage rather than a dedicated sales or landing pages
Choose your keywords based on search volume alone
Write or create ads without a target consumer in mind